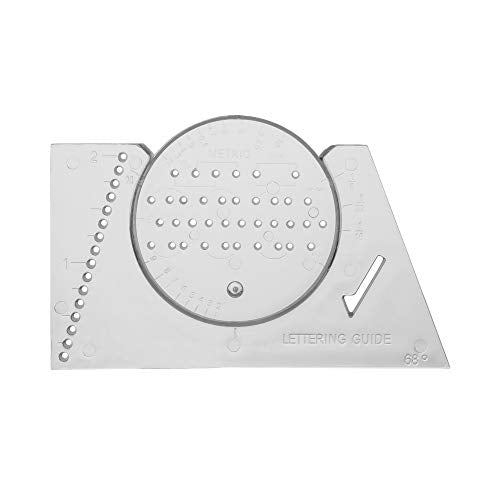 Pacific Arc - Ames Lettering Guide for Lettering, Writing, Architecture, and Drawing
Useful and versatile the Ames Lettering guide is simple to operate and provides three different systems of letters most widely used by draftsmen.
Equal measurements in 1/8 inch for headlines
Metric measurements
Lowercase letters will be 3/5 the size of capital letters
Even spacing
Create parallel or perpendicular lines
Easily create consistent check marks
For all creatives
Get template designs for graphic design, engineering, landscaping, drafting and lettering.
Ruler Edge
This isometric template has a ruler edge at 6 and 10 inches for quick measuring needs.
Flexible
Created to withstand the ebbs and flows of daily life.
Inches and Metric
Inches are displayed as decimals and fractions, while millimeters are displayed as decimals.
Pacific Arc Promise
Free Shipping on all orders above. Feel confident with
easy returns and refunds on all orders.
FREE SHIPPING
We offer Free Shipping on all orders in the continental United States.
MONEY BACK GUARANTEE
If you aren't 100% satisfied with our products we'll issue a full refund.
AFTERMARKET SUPPORT
Have a question about an order or product? Need to replace a part? Our support team is here to help.